The 9 most beautiful and charming beaches recommended to visit in Alanya, southern Turkey
To get know the most beautiful beaches in this city, Alanya when you visit it, and we advise you to read this article.
Alanya, one of the most beautiful cities of Antalya, is located 120 km east of it on the Mediterranean coast in southern Turkey. And it is one of the most important centers of tourist attraction not only in Turkey, but also in the whole world.
It enjoys incomparable beauty and stunning nature that fascinates eyes, and the most important thing that distinguishes it is that most of its beaches are certified by the International Blue Flag, and in this topic we review the most beautiful and wonderful tourist beaches in them.
1- Kleopatra Beach: Kleopatra Plajı
Cleopatra Beach is ranked first among the beautiful beaches of Alanya, as it has a blue flag, and is two kilometers long.
It was called Cleopatra Beach because it is said that the Queen of Ancient Egypt Cleopatra (69-30 BC) visited this coast and swam in it.
The beach is distinguished by the color of its soft golden sand and the color of its pure blue waters, and its fame exceeded the borders of Turkey until people heard it from everywhere.
2- Orange Beach:Portakal Plajı 
This beach is located near the city center of Alanya, between the mouths of two famous rivers, Oba Dim chayı, with a length of 1 km. It also has a blue flag certificate.
It is also one of the favorite beaches for lovers of water sports and skydiving from the slopes of the Taurus Mountains located behind it.
3 – Damlatash Beach: Damlataş Plajı
Thousands of Turkish and foreign tourists flock annually to visit Damlataş Beach and its famous cave, and it is also one of the beautiful beaches that have the International Blue Flag certificate, surrounded by fragrant green pine trees.
4 – Incekum Beach: İncekum Plajı
It is 25 kilometers from Alanya with a length of 1 km. And it is peppered with pine trees. The word "Ingicum" in Arabic means "fine sand", meaning that there is no need to describe it, as his name describes its natural beauty.
There are also places to set up tents.
5 -Keykubat Beach: Keykubat Plajı 
It is located directly to the east of the historical Alanya Plateau, and in some sections there are large sandstones, and along it there are many green gardens, and he has the International Blue Flag Certificate.
6 – Ulash beach:Ulaş Plajı
It is 5 km from Alanya city center, on the edge of the Alanya-Antalya road directly, and you can go down to it by wooden stairs.
It is surrounded by trees, plants and colorful flowers on all sides, making it a favorite place for a picnic with friends and family.
In addition, you can take a boat tour.
7 – Mahmutlar Plajı: Mahmutlar Beach
Mahmutlar, a town in Alanya, is the quietest town among its towns, where people feel relaxed and at ease.
Its beach is characterized by the softness of its sand and the purity of its waters, and it extends 5 kilometers. It is considered one of the quietest beaches and a comfortable place to relax.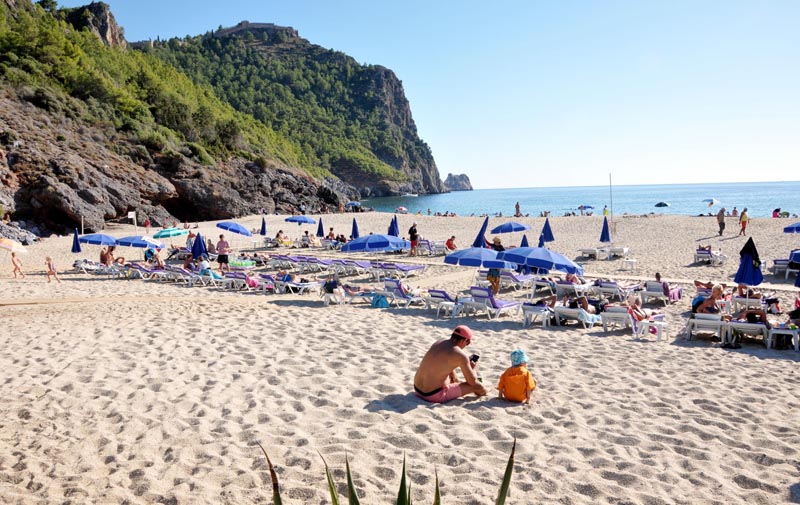 8 – Fugla ​​Beach: Fuğla Plajı
It is located 20 kilometers from the city of Alanya within a wide creek, and it is a favorite tourist destination for many Turkish tourists and foreigners.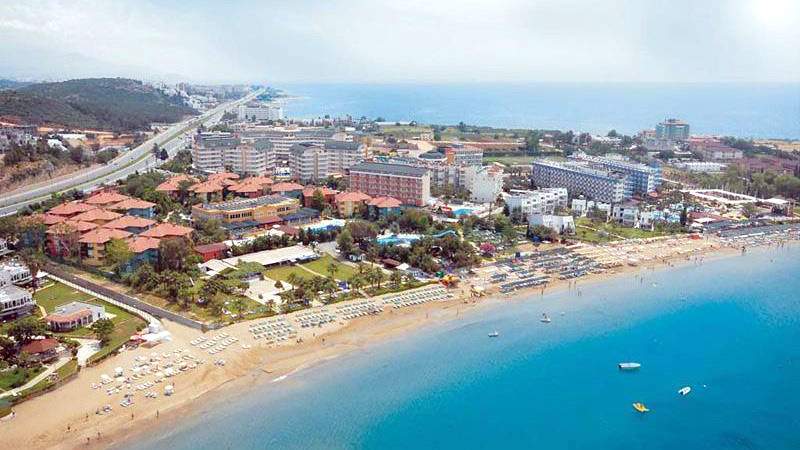 9 – Demirtaş Plajı :Demirtaş Plajı 
Located in "Demirtaş" town of Alanya, it is characterized by its natural beauty and the abundance of rare sea turtles.