Lake Mille Obero dazzles its visitors with its pink water
There are many tourist and natural places in Turkey, and each place is distinguished from the other by its beauty, historical and naturalness, and among these places is Lake "Mile Obero", which is located specifically in the Karabinar region, and to get to know this place more, we recommend that you read this article.
Lake "Meyil Obruğu Gölü" is located in the Karabiner district of Konya, which dazzles the onlookers as the color of its water turns pink due to the air temperature and geological factors.
In an interview with Anadolu Agency, Dr. Yashar Arin, a member of the geo-engineering faculty at Konya Technical University, gave information about Lake Mile Obru, one of the largest canyons in the region, which is currently witnessing a rare phenomenon, and its occurrence has been observed in several different places in the world.
"Lake Mill Obero is located on the Mill Plateau, 40 kilometers northwest of Karabinar," said Arin. A tilted groove formed within different layers in the "Upper Miocene" and "Lower Pliocene" period.
The height of the groove is 1044 meters above sea level, its long axis in the east and west direction is 660 meters, its short axis in the north and south direction is 590 meters, and its water depth is 40 meters.
Areen added, "The Groove Mile is one of the beautiful places in nature and unique, and it is expected to take a distinguished place as a tourist destination through its introductory and promotional activities, especially in these days when its waters are colored in pink, which will make introducing and promoting it easier and better" .
Aryn mentioned that the presence of bacteria in highly saline water leads to the production of "beta-carotene", which causes the change of the color of the lake water, and said: "Perhaps in the slope of the lake there is a type of green microalgae that can live in a highly salty environment, and these organisms can also adapt." In living in a very salty environment, this type of microorganism is called (salina) and the word originates from the Latin meaning very salty, these microorganisms increase greatly with the increase of the salinity percentage in the area, which leads to the transformation of the color of the water to a red color, although the algae (Micro-organisms) are green in color, but they produce large amounts of "beta-carotene" in the highly salty environment, which causes the red color to turn pink. "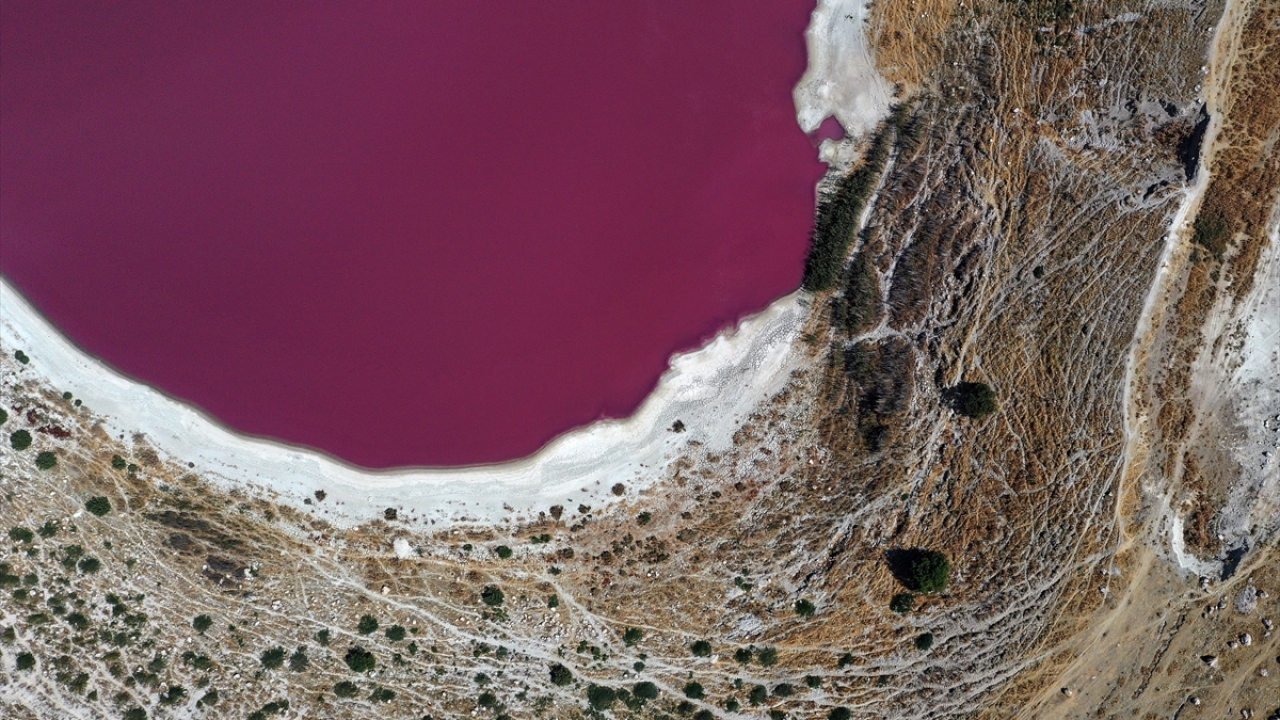 The structure of Lake Obero has caused it to always contain salt water, so its visitors can enjoy for years to come the view of the pink lake.
Arin referred to conducting research and studies within the scope of the "Obro Aad Konya" project, aiming at introducing the region and studying its geological structure, supervised by a faculty member at Konya Technical University, geological engineer Shida Parlar, and geology engineer Berkant Joshkuner.